Our team of staff and trustees take pride in our task of carrying out the mission
of a lifetime. Through hard work, collaboration and connection with our respective communities, we look
forward to partnering with changemakers to create incredible impact.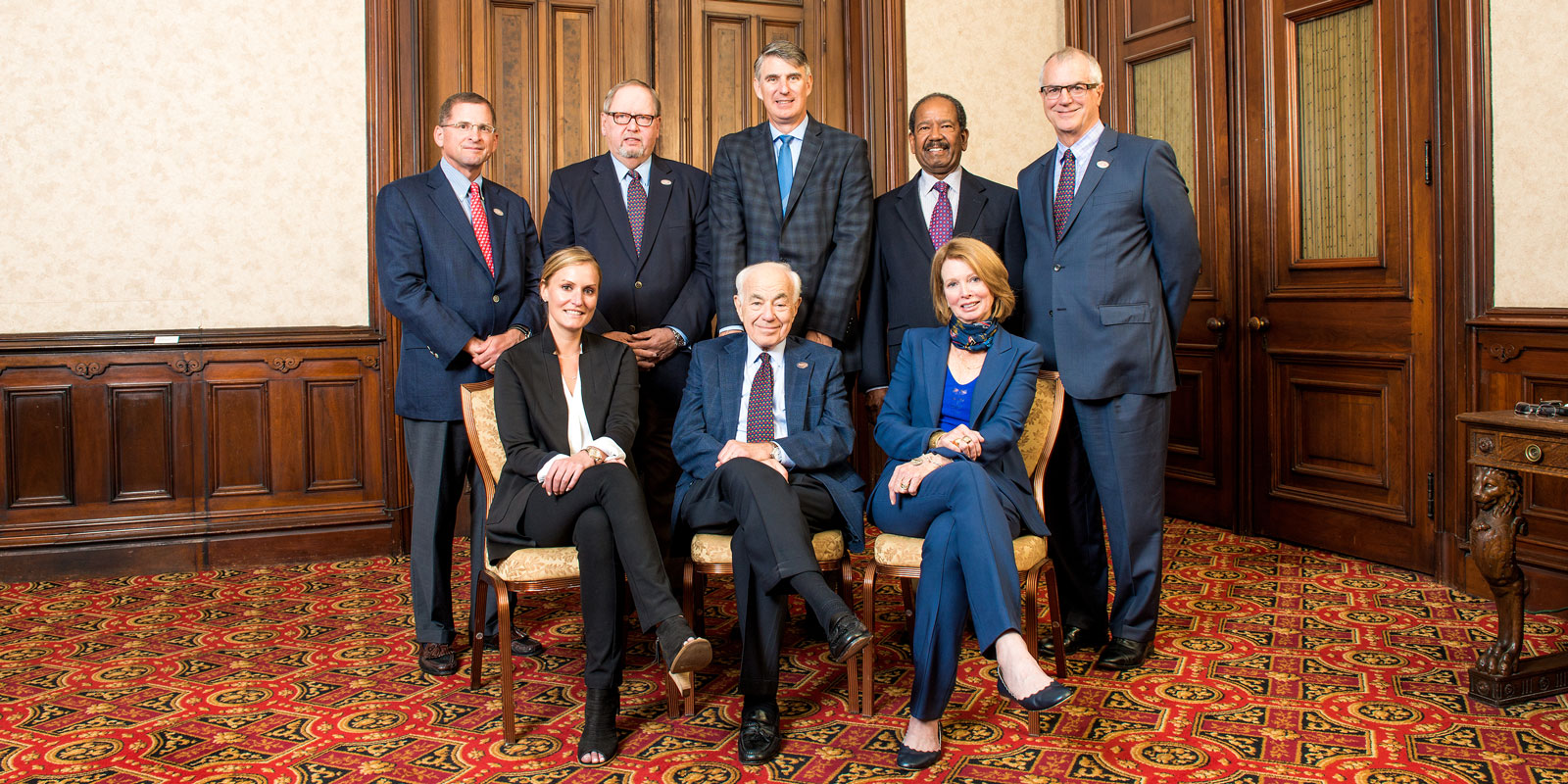 From Left to Right (Top): Jeffrey C. Littmann, Life Trustee; Jerry Mazurkiewicz, Trustee; Dave Egner, President & CEO; W. Frank Fountain, Trustee; David Colligan, Trustee; From Left to Right (Bottom): Mary Owen, Life Trustee; Eugene Driker, Life Trustee; Mary Wilson,  Board Chair & Life Trustee
Our Staff
More
David O. Egner
President & CEO
In January, 2016, David Egner was appointed president and CEO of the newly-formed Ralph C. Wilson Jr. Foundation, a $1.2 billion foundation that must spend down by 2035. The Foundation's funding priorities include Active Lifestyles, Caregivers, Entrepreneurship & Economic Development and Preparing for Success. Funding is concentrated in Southeast Michigan and Western New York. The assets of the Foundation come from the estate of Mr. Wilson, a Detroiter who founded and owned the Buffalo Bills NFL football team.
Prior to leading the Wilson Foundation, Egner was President & CEO of the Hudson-Webber Foundation for 19 years. The Foundation concentrates its efforts and resources on its mission of improving the quality of life in metropolitan Detroit, The Foundation is often considered one of the driving forces in the transformation of Midtown and Downtown Detroit.  From 2009-2015, Egner also served as Executive Director of the New Economy Initiative (NEI), the largest philanthropic led economic development initiative in the country. NEI is recognized for its inclusive approach to economic development, generating nearly $3 billion in economic impact during Egner's tenure, while seeing minority business starts created by the program exceed more than 2.5X the national average. Egner has more than 30 years' experience working with nonprofits and foundations, from his early years as an executive assistant to the chairman at the W.K. Kellogg Foundation in Battle Creek to guiding the Michigan Nonprofit Association, a Lansing-based coalition, through its development and mergers. He serves on the boards of the Downtown Detroit Partnership, Invest Detroit, and TechTown and is Chairman of the Michigan Future Board. In 2009, he was named one of Crain's Detroit Business Newsmakers of the Year for his work with both the Hudson-Webber Foundation and NEI. Egner has an M.B.A. from Western Michigan University and a bachelor's degree from Westminster College in Fulton, Missouri. He resides with his wife Tammy in metro Detroit.
---
More
Jim Boyle
Vice President of Programs and Communications
Jim Boyle joined the Ralph C. Wilson, Jr. Foundation in May 2016 as the vice president of programs and communications. Boyle previously served as senior program officer at the New Economy Initiative (NEI), a special program of the Community Foundation for Southeast Michigan working to support entrepreneurship, small business growth and innovation from grassroots to high growth. In this role, he helped to develop and drive culture change and promotions initiatives for the project, while assisting in the overall strategy.
Boyle brings over 15 years of experience in organizational strategy, brand development and oversight, program innovation, market research and media relations. In his previous role as vice president of integrated marketing at lovio george | communications + design, he guided integrated and strategic programs for clients such as Detroit Future City, M-1 Rail, the Hudson-Webber Foundation, Detroit RiverFront Conservancy and Midtown Detroit, Inc., among others. In addition, he also served as marketing director for the Detroit Institute of Arts (DIA) and as marketing manager at the Detroit Public Library. He is a passionate urbanite and lives in Detroit's Historic West Village. Along with several artists, authors and musicians, he recently co-founded Public Pool, an art co-op dedicated to creating events/exhibitions focused on contemporary issues and ideas. Boyle has a bachelor of arts from Michigan State University.
---
More
Maura Dewan
Vice President of Corporate Affairs
Maura Dewan joined the Ralph C. Wilson, Jr. Foundation in May 2016 as director of programs and strategy and will focus on the Foundation's partnership development, strategic initiatives and process management needs. Since 2003, Dewan served as the foundation coordinator at Michigan's non-partisan Governor's Office of Foundation Liaison, a non-partisan office established to create strategic partnerships between state government and the philanthropic sector. During this time, her primary focus was on three priority issue areas: early childhood/education, health and economic workforce development.
She has more than two decades of experience in the nonprofit world, providing consultation services for the Tobacco Free Michigan Action Coalition, Michigan Nonprofit Association and Michigan Campus Connect. She also served as conference coordinator and executive assistant to the President of the Michigan Nonprofit Association. Dewan has also served on the St. Thomas Aquinas School Education Commission and the Great Lakes Feis Committee. She has a bachelor of science from Michigan State University.
---
More
Amber Slichta
Vice President of Programs and Learning
Amber Slichta, a Buffalo native, joined the Ralph C. Wilson, Jr. Foundation as vice president of programs in July 2016. Slichta previously served as vice president at the Health Foundation for Western and Central New York, where she developed and implemented several major initiatives to improve the lives of children in poverty. She also facilitated many key partnerships and other projects that furthered the Foundation's mission.
Prior to joining the Health Foundation, Slichta was the executive director of HealthforAll of WNY, Inc. where she led an effort to provide insurance subsidies for the working uninsured and their employers. She also served as project manager for the State University of New York at Buffalo's Department of Family Medicine and as communications manager and organ services coordinator at Upstate New York Transplant Services, Inc. As a registered nurse, Slichta has also held positions in critical care and medical surgical nursing. She received an associate degree in applied science/nursing from Trocaire College, a bachelor's degree in accounting from Canisius College and a master's degree in health services administration from D'Youville College.
---
Norah M. O'Brien
Vice President of Admin and Finance
---
More
J.J. Tighe
Director, Parks & Trails Initiative
James J. (J.J.) Tighe joined the Ralph C. Wilson, Jr. Foundation as director of the Parks & Trails Initiative. J.J. comes to the Foundation after having served as the president & CEO of the Michigan Fitness Foundation and Governor's Council on Physical Fitness, Health and Sports. During that time, J.J. was instrumental in developing a collaborative partnership with the Department of Natural Resources to support the Iron Belle Trail Initiative.
Prior to leading the Michigan Fitness Foundation, J.J. was a Senior Leader with the General Electric Company, where he served in operational and leadership roles, including Region Manager for GE Healthcare. Prior to GE, J.J. served as a Captain in the U.S. Army with the 1st Infantry Division and 1st Cavalry Division during his 8 years of service. J.J. was awarded the Bronze Star and Air Medal during his service in Operation Iraqi Freedom in 2004. J.J. holds a B.S. in Finance from Boston College and an M.B.A. at the Ross School of Business at the University of Michigan. J.J. currently resides in Southeast Michigan with his wife and four boys. He is an avid runner and very active in youth hockey. He is also a strong advocate for Veterans in the community — formerly serving as the National Veterans Finding Careers Leader for GE and currently serving on the board of Wins For Warriors, Justin Verlander's non-profit focused on empowering military Veterans and their families in SE Michigan. In 2017, JJ was appointed by Governor Snyder to serve on the board of the Michigan Veteran Trust Fund, assisting Veterans overcome unforeseen and short-term financial emergencies.
---
Carly Strachan
Senior Communications Officer
---
Eric Phamdo
Program Officer
---
Paul Riser
Senior Program Officer
---
Misha Stallworth West
Program Officer
---
Kari Pardoe
Program Officer
---
Marissa Rossman
Program Associate
---
Kate Partington
Program Associate
---
Connie Lanciaux
Program Associate
---
Mercedes Pergande
Communications Associate
---
Amy Partridge
Grants Manager
---
Liz Delaney
Senior Learning Officer
---
Sarah Truax
Learning Associate
---
Faye Radcliffe
Executive Assistant
---
Danielle Wilder-Hamilton
Executive Assistant
---
Maria Suchyta
Executive Assistant
---
Tyler Parlor
CMF Philanthropy Fellow
---
Melanie Speelman
CMF Philanthropy Fellow
---
Apply For A Grant
Organizations in Western New York and Southeast Michigan within our four core funding areas are now welcome to apply through our online process.
Apply now